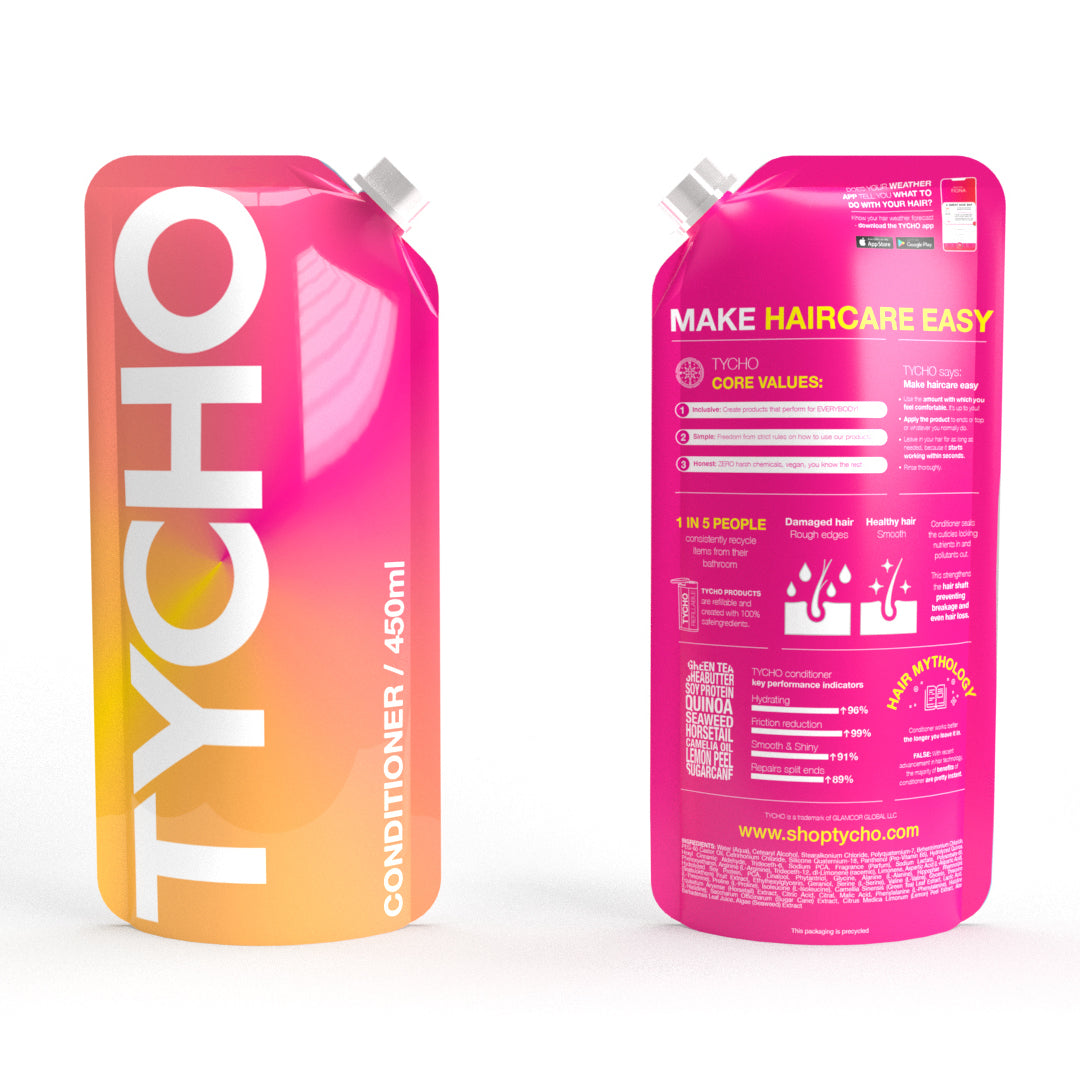 TYCHO Conditioner
Transform your hair with TYCHO's luxurious conditioner. Our specialized blend deeply hydrates and strengthens with essential amino acids and vitamins. Enjoy irresistibly smooth, shiny hair with our signature scents.
Ultra-Moisturizing: Delivers intense hydration to even the driest hair strands.

Nutrient-Boosted: Packed with essential amino acids and vitamins for healthier, stronger hair.

Signature Scent: Experience luxury in every wash with our exclusive, high-quality fragrances.

Silky Smooth: An irresistibly smooth, tangle-free finish.

Safe & Effective: Carefully formulated with ingredients that are both gentle and effective.

Versatile Conditioning: Suitable for all hair types, from straight to curly, and even for color-treated hair.

Natural Shine: Polishes each strand for a lustrous, photo-ready shine.

No Residue: Lightweight formula that won't weigh your hair down, leaving no greasy residue.

pH Balanced: Citric acid ensures the conditioner is pH balanced to maintain hair and scalp health.
More details? It's a paraben-free, amino acids and a humectant that draws moisture to the other layers of the surface and helps the hair retain moisture, resulting in a youthful appearance. The composition is modeled after the constituent amino acids of proteins existing in the hair Cell Membrane Complex. In addition to moisturizing, amino acids applied onto the hair are known to strengthen the structure, protect the color and to repair the surface damages.
TOP
BERGAMOT, LEMON, MATCHA TEA ACCORD
MID
RASPBERRY, ROSE, PEONY
BOTTOM
VANILLA, MUSK, SANDALWOOD
Water, Cetearyl alcohol, Propylene glycol, Glycerin, Behentrimonium chloride, Panthenol, Fragrance, Dimethicone, Polysorbate 60, Stearamidopropyl dimethylamine, Sodium benzoate, Phenoxyethanol, Isopropyl alcohol, Hydroxyethylcellulose, Polyquaternium-7, Citric acid, Sodium PCA, Sodium lactate, Disodium EDTA, Arginine, Hydrolyzed wheat protein, Aspartic acid, PCA, Glycine, Alanine, Serine, Valine, Threonine, Proline, Isoleucine, Histidine, Phenylalanine